Julie KARPENKO
---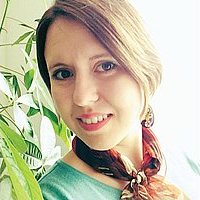 got her PhD in chemistry from the University of Strasbourg in 2014.
After a postdoc in chemical biology in Kai Johnsson's lab (EPFL Switzerland), she joined in 2016 the Integrative Chemical Biology team of the UMR7200 at the University of Strasbourg as associate professor (maître de conférences).
Her research interests lie in the field of fluorescent molecular probes for bioimaging (including live-cell imaging of GPCRs) and medical diagnostics.
---
Haut
Back to top