2nd IRN i-GPCRnet annual meeting Wurzburg September 30th - October 1rst 2022
---
We are happy to announce you our 2nd IRN i-GPCRnet meeting that will be held at the University of Wurzburg (Germany) from september 30th to october 1rst.
To register click here (Places are limited.)
Abstract submission deadline is fixed to the end of june for talk selections (several slots available).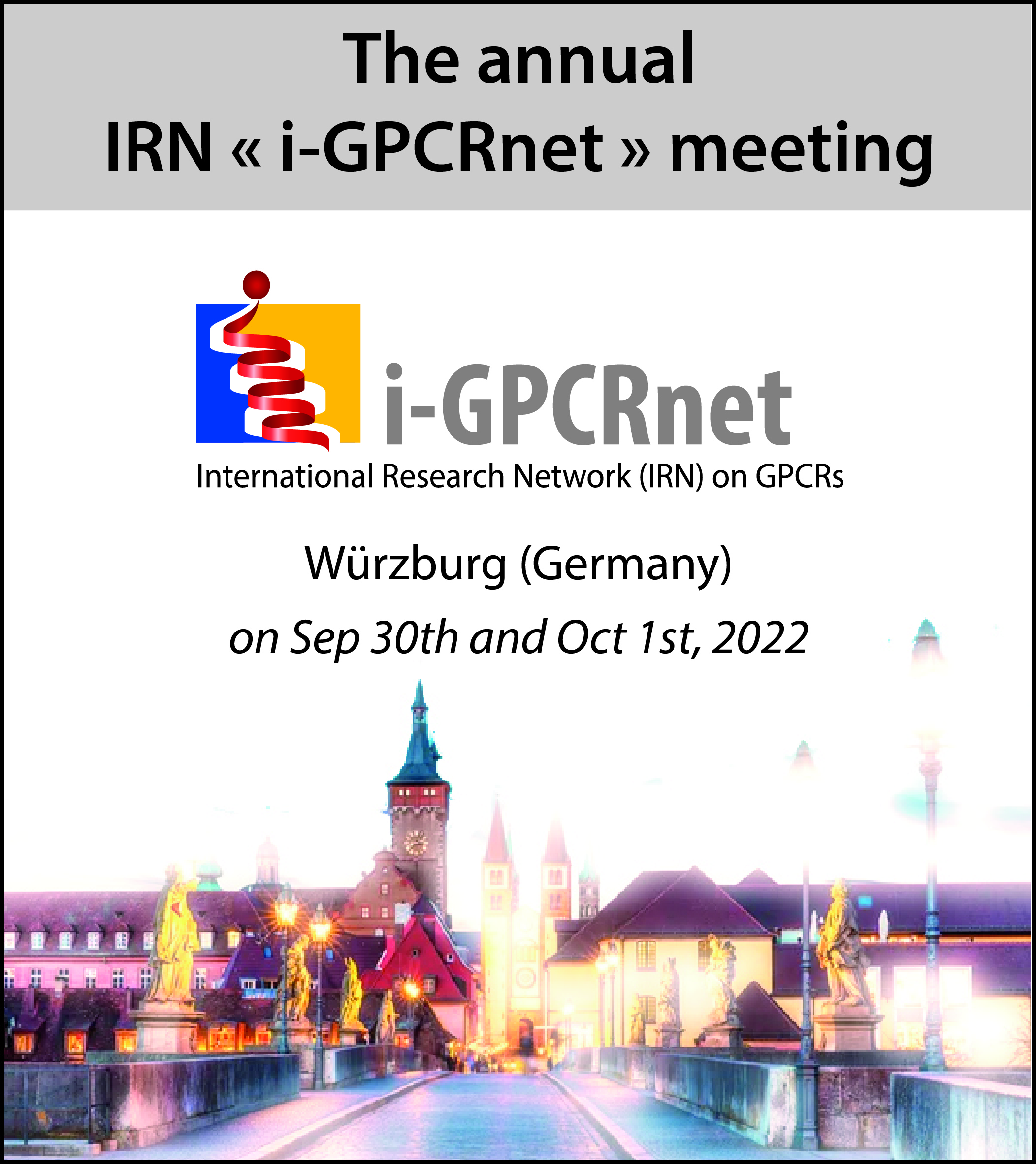 Day 1 - September 30th
18h00 Keynote Lecture - Brian Kobilka (Stanford Univ. School of Medicine, CA, USA)
19h00 Poster Session I & Dinner
09h00 Welcome from the iGPCRnet
09h10 - 10h30 Session I – "What ? Where ?" GPCR signalling and spatial organisation
Michel Bouvier (Montreal Univ., Canada)
4 Talks selected from abstracts
Q&A
10h35 Coffee Break
10h50 - 11h50 Session II – "When?" GPCR function dynamics and modulation
Jean Philippe Pin (Institut de Génomique Fonctionnelle, Montpellier, France)
2 Talks selected from abstracts
Q&A
11h50 Round Table I - "Challenges and future directions in the GPCR field"
12h30 Poster Session II & Lunch
14h30-15h10 Session II (cont.) – "When?" GPCR function dynamics and modulation
3 Talks selected from abstracts
Q&A
15h10-16h00 Session III – "How?" GPCR complexes and new technologies to investigate GPCRs
Steve Briddon (University of Nottingham, UK)
2 Talks selected from abstracts
16h20 Round-table 2 - "Career challenges and opportunities in the GPCR field"
17h-17h30 Session III (cont.) – "How?" GPCR complexes and new technologies to investigate GPCRs
2 Talks selected from abstracts
Q&A
17h30 Keynote Lecture - (To be annouced)
18h30 Awards & Closing section
19h00 Dinner
The i-GPCRnet meeting organizing committee:
Ralf Jockers (Inst. Cochin, France)
Martin Lohse (University of Wurzburg - ISAR Bioscience, Munich/Planegg, Germany)
The ECS committee:
Xavier Iturrioz (CEA, France)
Erika Cecon (Inst. Cochin, France)
Julie Sanchez (University of Nottingham, UK)
Andreas Bock (Leipzig University, Germany)
Rym Ben Boubaker (MITOVASC, France)
Katarina Nemec (MDC Berlin, Germany)
Laura Lemel (DOMAINEX, UK)
Frédéric Jean-alphonse (INRAE, France)
Julie Karpenko (University of Strasbourg, France)
Bernard Masri (Inst. Cochin, France)
Romy Thomas (MDC Berlin, Germany)
Pierre André Lafon (IGF, France)
Cécile Derieux (Leipzig University, Germany)
---
Haut
Back to top